Camping 101
The Handy Dandy Backpacking Checklist for Summer Adventures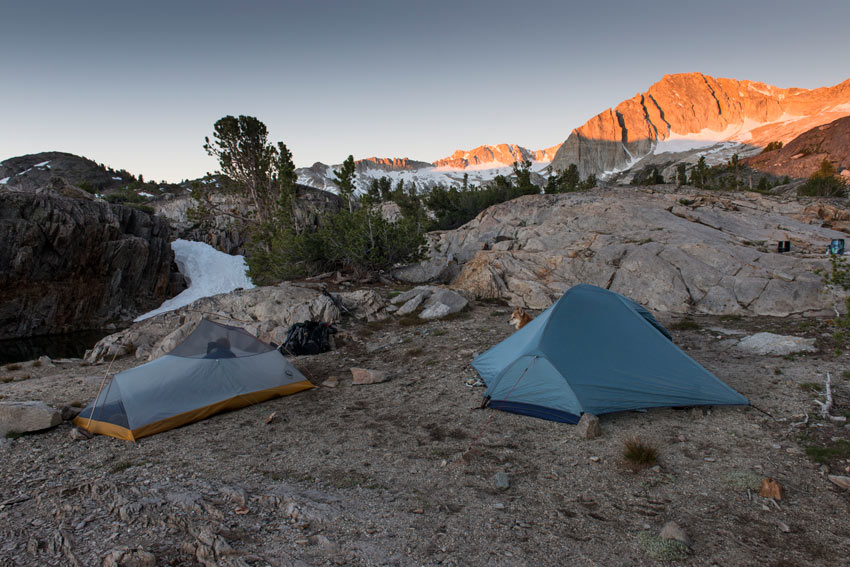 Do you feel like going backpacking this summer, but haven't streamlined the packing and planning process?
Today I'm sharing the checklist I use for backpacking with the hope that you'll be able to use it during your own planning. With food, water and Nikon DSLR, my pack that this list is based on weighs in at about 28 lbs. This list is certainly not all-encompassing, so feel free to edit and tailor it to your climate (mosquitos? hot/cold/humid/dry?), legalities (bear cans?, no ground fires?, CCW permitted?) and style (comfort on foot vs comfort at camp?). Just to give you an idea of what kind of backpacking I'm doing with the gear in this checklist, I'm usually in California's Eastern Sierra during the summer on easy well-traveled terrain where navigation is a no-brainer.
Aside from the necessities, I allow myself one indulgence which is usually my DSLR. Sometimes I ditch the DSLR and pack a point-and-shoot camera with a flask of rye whisky instead. Some may opt for a camp chair frame, the kind where you slide your mattress inside for a padded seat with a minimal weight penalty, but I just sit on my bear can. Your adventure is your own; pack what suits you.
This article is split into two templates. First, a packing checklist. Copy this into Google Docs, Evernote or wherever you keep all your notes and documents. Second, a Google Docs emergency contact template that I share with others in my group. I have them add in their personal information (to include emergency contact information like a family member or girlfriend) and then right before we punch out of work on Friday, I copy, paste and mass-mail it to their emergency contact.
Without further ado:
Procedural Stuff to do at Home Before Heading Out
Freeze leftovers
Unplug stuff from walls
Buy topo maps
Email emergency contact info to friends/family of party members
Enter emergency contact emails into SPOT messenger contact list
Find dogsitter
Take out trash and recycling
Clean camera lenses
Top off batteries (camera, headlamp, SteriPEN, SPOT Messenger, etc.)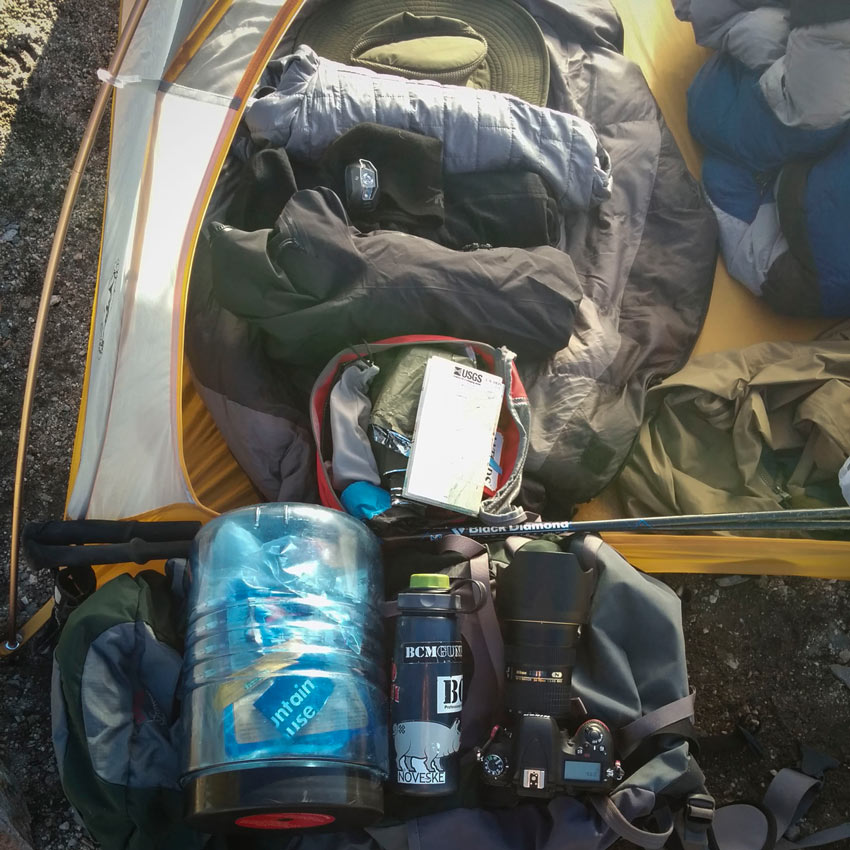 Stuff To Pack
Navigation
Topographic Map/s
Suunto Ambit (currently field testing this, but have been wearing a Suunto Vector for the previous nine years for the altimeter. Most will opt for a compass and possibly a GPS with topo base maps such as the Garmin 62St)
Sun/Bug Protection
Clothing
Liner Gloves
Shell Jacket
Down Jacket
Base Layer Hoodie
Spare Socks (seasonal)
Illumination
Headlamp (sewn to beanie, this is two items for normal people)
First Aid
Fire
Repair
Food
Hand Sanitizer
Trail Snacks
Spork
Food (2x Mountain House, 1x Instant Ramen Noodles per day)
Bear Can
Hydration
Hydration Bladder and/or Bottles
Drink Mixes (1x Emergen-C, 1x Starbucks Via, 1x herbal tea per-day)
Shelter
Ground Pad (Big Agnes Insulated Air Core or Therm-a-Rest NeoAir)
Sleeping Bag (Big Agnes 40°)
Tent (Big Agnes Fly Creek UL2)
Other Stuff
Trekking Poles
Toiletries (toothbrush, toothpaste, Gold Bond, floss)
Baby Wipes
Trash Bag/s
Bear Spray
Camera
Stuff to Throw in the Car
Extra Food
7-Gallon Water Jug
Day Pack (if trailhead quota is exceeded and party decides on day hike instead)
Titanium Mug (pot substitute if sharing Jetboil with another party member)
Clean T-shirt and Flip Flops for the Ride Home
Emergency Contact Info Template
Copy and edit this spreadsheet to suit your trip and email to each party members' significant others or family. This example is for a backpacking trip at 20 Lakes Basin.
This is the emergency contact information for your spouse/SO/child regarding the backpacking trip they are going on with me. See below for relevant information.
"We will be off the grid and therefore out of cell phone contact from mid-morning Saturday until noon Sunday. Do not call Search and Rescue unless we have not checked in by Monday morning. Inyo National Forest Ranger station: (760) 873-2485."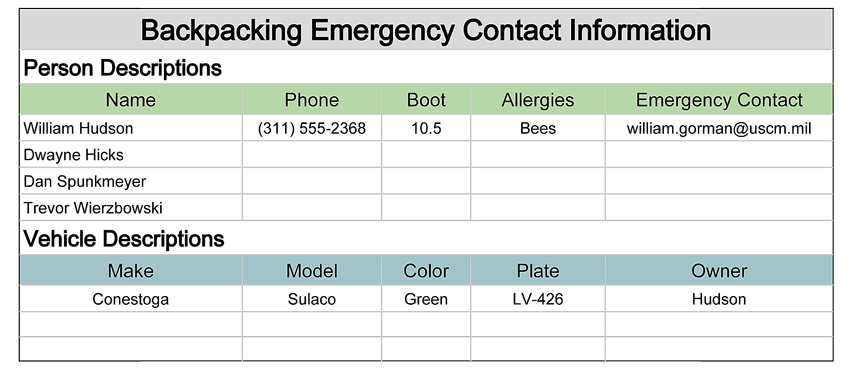 Summary Of Activities
Weather Forecast
Visit NOAA.gov to find the forecast for your location.
Route
It's best to snap a photo with the topographic view of your destination and share the route information with your emergency contact.
"We will trace counter-clockwise on the loop towards the top. Weather is expected to be clear with zero precipitation, highs in the 80s and lows in the high 40s or low 50s."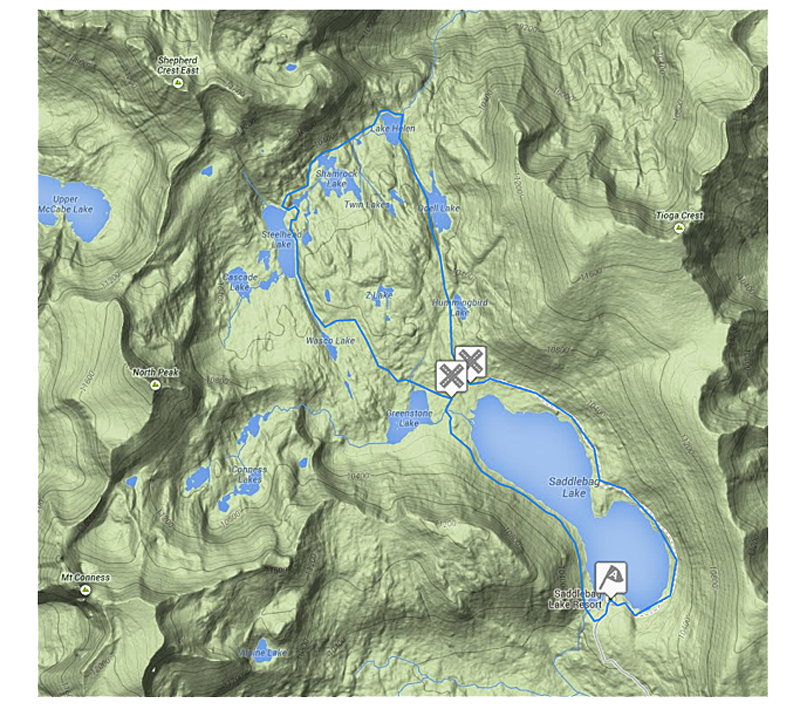 Schedule
Friday
1830 – Depart Los Angeles after Hicks and Spunkmeyer leave work and arrive at my place. Dinner is on our own: either on your way here, fast food enroute, or Mountain House at camp.
2300 – Arrive at camp at dispersed camp near Lone Pine at the usual spot. Weirzbowski will drive up from San Diego and meet us there at his own pace. Send SPOT beacon.
Saturday
0645 – Break camp, Mountain House for breakfast or Jack-in-the-Box in Bishop.
0730 – Line up at Bishop permit office to attempt walk-in overnight permit.
0930 – Hit trailhead. We'll park our car wherever the designated overnight/backcountry trailhead parking lot is. My Sulaco is the one with the Yakima rack and surfboards.
Afternoon – Camp at Shamrock Lake. Send SPOT beacon. Instant noodles for lunch, Mountain House for dinner.
Sunday
0800 – Break camp at our own pace. Mountain House for breakfast.
1000 – Arrive back at trailhead.
1600 – Arrive home. Each person should check in with their emergency contact when they arrive safely home.
Estimated Cost
Please bring cash in small bills to reimburse your driver.
Gas: for those riding with me: 620 + 5% miles = ~650 miles / 21 mpg = 31 gallons @ $4.50/gal = $140 total / 3 pax / car = ~$47ish
Food: n/a, on your own.
Lodging: $0
Park fees: $5 bear can rental if you don't own one. I will put my food into Hicks' bear can. Wierzbowski and Spunk don't have one, so you guys decide amongst yourselves who will do the rental and divvy up your food/toiletries and other scented items.
Total Estimated = ~$60ish per head
Plan Your Own Adventure!
This article should serve as a great starting point to help you plan your next weekend adventure. Feel free to customize the packing checklist to fit your own needs be sure to send us a postcard.
"I am a happy camper so I guess I'm doing something right." – Henry David Thoreau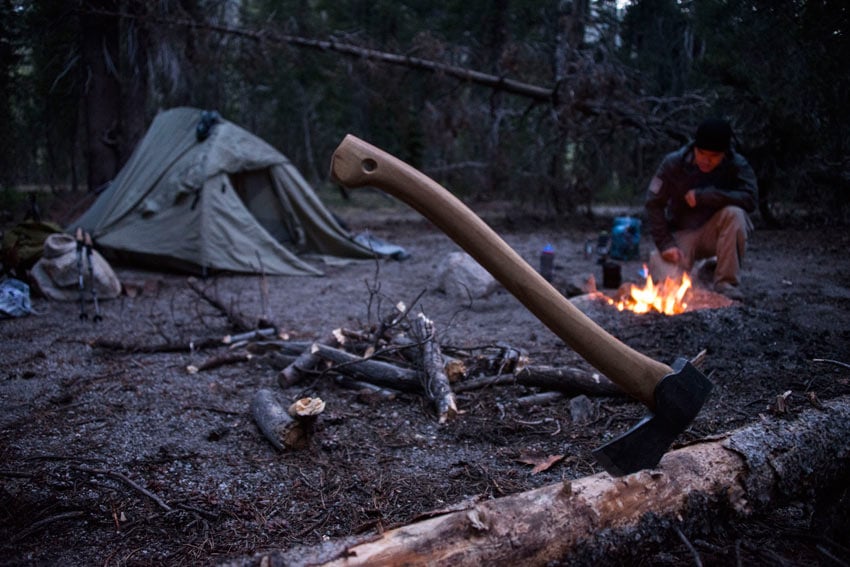 Editor-in-Chief's Note: Jeff lives in Los Angeles and serves as our resident Eastern Sierra correspondent. He's buckling down for the next Sharknado, but in the meantime is throwing the occasional blog post up on skunkabilly.com.