DIY Survival Kit Made Real Simple

DIY COFFEE CAN SURVIVAL KIT.
This DIY survival kit can be made with inexpensive supplies and a simple metal coffee can. Make sure the coffee can you are using for your survival kit is modified to be a wood stove also. This simple but efficient survival kit is best for if you break down in an uninhabited area while driving your car. This kit is also ideal for a day trip for hiking, camping, or exploring outdoors. We have a list below of the recommended survival gear to put into your kit.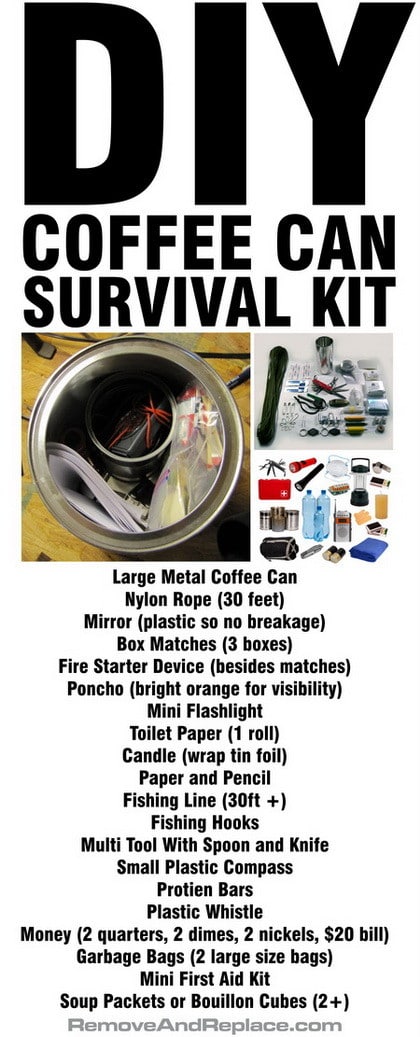 Here are 20 basic items you should include in your DIY Coffee Can Survival Kit:
Large Metal Coffee Can (Optional: Make holes in it for cooking or boiling water)
Nylon Rope (30 feet)
Mirror (plastic so no breakage)
Box Matches (3 boxes)
Fire Starter Device (besides matches)
Poncho (bright orange for visibility)
Mini Flashlight
Toilet Paper (1 roll)
Candle (wrap tin foil)
Paper and Pencil
Fishing Line (30ft +)
Fishing Hooks
Multi-Tool With Spoon and Knife
Small Plastic Compass
Protein Bars
Plastic Whistle
Money (2 quarters, 2 dimes, 2 nickels, $20 bill)
Garbage Bags (2 large size bags)
Mini First Aid Kit
Soup Packets or Bouillon Cubes (2+)
Most of the above items will fit in a large metal coffee can. You could also use metal containers available at outdoor stores or elsewhere. To make it so the items do not rattle inside the can, crumple some wax paper and put it around the items. The wax paper will stay dry and also is a great a fire starter if needed. To save weight the contents can be placed in a large nylon outdoor bag instead of the coffee can.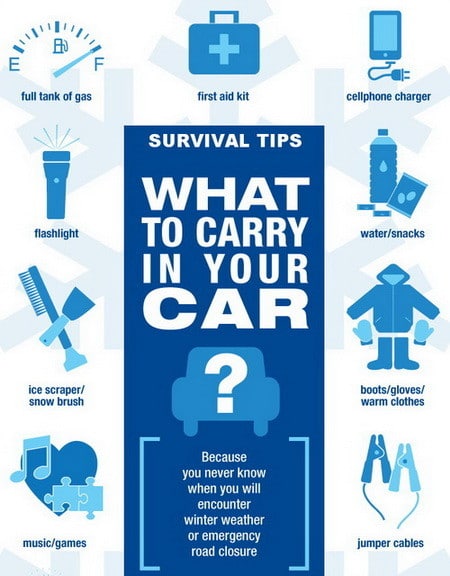 The above chart shows a few items to always leave in your car in the winter
Here is a complete survival supplies kit list with 50 items to make a complete DIY kit yourself:
Hiking Backpack
Lighter
Space Blanket
Plastic Freezer Bags
Crowbar
Can Opener
Chemical warmer packs
Energy Bars
Waterproof Matches
Emergency Candles
Hiking Tarp
Water Storage
Water Filter
Camp Axe
Shovel
Flares
Cell Phone
Water Bottles
Flashlights
Multi-Tool
Pocket Knife
MRE'S
First Aid Kit
Compass
Signal Mirror
Tent
Riffle
Ammo
Eating and Cooking Utensils
Whistle
Hiking Boots
Water Purification Tablets
Paracord
Hiking Hammock
Machete
Plastic Paint Tarp
Salt
Mylar blanket
HeadLamp
Fishing line
Sleeping Bag
Canteen
Sewing Kit
Map
Duct Tape
Plastic Tubing
Scissors
Sunscreen
Extra Socks
Gloves
Do you have suggestions on items to add to our survival supply list? Please leave a comment below if we have left anything out!